Dental implants

are often used as alternatives to bridges and dentures.

This involves replacing the tooth and roots with artificial parts that help it look and function in a more natural way.

There are several reasons why people get dental implants. You can receive one at the same time as a dental extraction or to fill an empty space where you previously had a tooth extracted. This procedure can vary depending on your specific condition, so your dentist would consult with you to determine the best method. At Summit Dental Group, we can guide you through the best option for you.


Learn more about your implant options
The Importance of Dental Implants

Dental implants are not always necessary, since people can function while missing a tooth. However, they are a great alternative to other procedures used to replace teeth. Dental implants give you more function for chewing, speaking, and other everyday activities for which you use your teeth. They also provide aesthetic value, since they closely resemble natural teeth and can make your mouth look more normal. In addition, they are very reliable and have a great success rate.


Types of Dental Implants

There are two types of dental implants that people can get; endosteal and subperiosteal. Endosteal implants are the most common type. These are placed in the jawbone and are made of titanium. They have the shape of a small screw, making them very easy to use.

Subperiosteal implants are placed under the gum, but either on or on top of the jawbone. These are used in the case of patients who do not have a healthy enough jawbone to support endosteal implants. You can also have a bone augmentation procedure to rebuild the jaw, but this provides a nice alternative for patients who choose not to do that.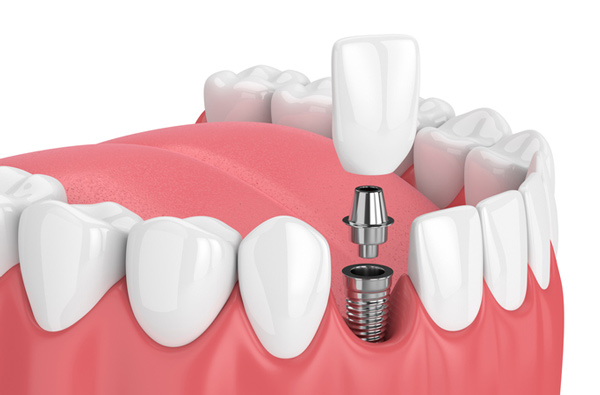 Procedure

Getting dental implants can sometimes require multiple procedures.

There are a few ways your dentist will prepare you for the procedure. First, they need to make sure your jawbone can support implants or they need to prepare for an alternative method, such as subperiosteal implants. They can do this by taking x-rays, 3D images, and doing molds of your jaw and teeth.



If your jawbone is not able to support dental implants, but you would still prefer endosteal implants, you can have other procedures done to give your jawbone strength: bone augmentation, sinus lift, and ridge expansion. You will not necessarily need more than one of these procedures. Bone augmentation includes restoring or replacing parts of the jawbone. Sinus lifts add bone below your sinuses where you are missing upper back teeth. Ridge expansion involves bone grafts being added to a space created above your jaw.

Regarding the dental implant surgery, your dentist will first administer an anesthetic. Once this has taken effect, they will make an incision in the gum which exposes the bone. Holes will be drilled into your bone to make spots for the implant posts, made of metal. You will then need to wait for the jawbone to grow over the implant (osseointegration). This can take several months.

Once the osseointegration is complete, your dentist will apply local anesthetic and reopen the gum. They will then place the abutment, which is what the artificial tooth will attach to. After a couple weeks of recovery, your dentist will make impressions to mold an artificial tooth. Once this is complete, it can be attached to the abutment.

Your dentist will also talk you through recovery instructions, such as pain medications or antibiotics. For information regarding dental implants, contact Summit Dental Group today.